Ethel Mae Blyth - aka. Ethel Barrymore
Actress
Birth Aug 15, 1879 - Philadelphia, PA
Death Jun 18, 1959 - Hollywood, CA

Born into a long-established American theatrical family, Ethel Barrymore dreamed of being a concert pianist, but found that acting was virtually the only profession for which she was truly qualified - and which ensured a livable incom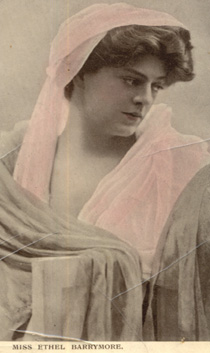 e. Ethel's first Broadway hit was Clyde Fitch's 1901 play Captain Jinks of the Horse Marines, in the role of a supercilious woman of wealth. Ethel received glamorous roles, usually comic in nature, specially written for her. Ethel was intrigued at the notion of working with her celebrated brothers John and Lionel Barrymore, but the film vehicle chosen by MGM, Rasputin and the Empress (1932), showed only Lionel to advantage. After ten years of unsuccessful plays - excepting a "comeback" in the 1940 hit The Corn is Green. Ethel accepted Cary Grant's personal invitation to play Grant's mother in None But the Lonely Heart (1944), for which she was nominated and won an Oscar. After the World War in 1946 Ethel left for Hollywood and landed in the films The Spiral Staircase (1946), The Farmer's Daughter (1947) and Pinky (1949). One of her last efforts was a syndicated anthology, Ethel Barrymore Theatre, in which she hosted and occasionally acted. Ethel Barrymore two-word assessment of acting on television was that "It's hell."CLICK HERE FOR Ethel Barrymore Photo 1906.
Portrait of Jenny was an interesting video. Joseph Cotton is an artist Eben Adams. Jenny is a ghost who had died many years ago in a Tidal wave in New England at a lighthouse that Adams had painted. It is much like the Twilight Zone. Adams falls in love with "Jenny" actress Jennifer Jones. Ethel Barrymore purchases Adams and supports his belief in Jenny.
Deadline USA, Humphreny Bogart plays the good guy and Ethel saves the day. Every newspaper writer or publisher should watch this one, especially Larry Flynt. Never Kill A Story.
One must not ignore Ethel's private life for there are gold nuggets there also. In 1909 Ethel Barrymore married Russell Griswold Colt, it lasted fourteen years and produced three children Ethel B. Colt, Samuel P. Colt and John Drew Colt.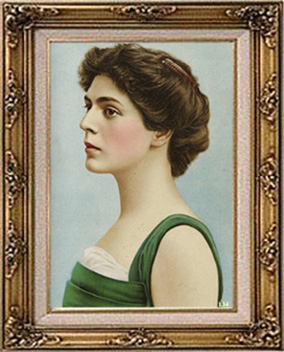 Russell was a stockbroker and executive of the Lewis Arms Company. His father was Samuel Pomeroy Colt who founded the 500-acre Colt Farm and Drive in Bristol, R.I. Russell's father was Samuel Pomeroy Colt, president of the United States Rubber Company. His brother was Le Baron Bradford Colt a well known lawyer, judge and U.S. Senator (1913-1919) for the state of Rhode Island. In 1876,1877, 1878, Samuel P. Colt was a member of the general assembly and from 1879-85 was assistant attorney-general. Samuel married Eliabeth M. Bullock the daughter of a well known judge James Russell Bullock. Russell's grandfather was Col. Samuel Colt, who with a small inheritance perfected the famous revolver. In 1835 while in Calcutta at the age of 21 he took out his first patent for a revolving firing pistol. A company was formed in 1835. In 1842 when the Mexican war broke out he designed another model so that he would win Government contracts. Samuel Colt Sr. also invented a submarine battery of great power and efficiency, and as early as 1843 laid operated a submarine cable from Coney Island and Fire Island to New York City. From the mouth of the harbor to the Merchant's Exchange.
In 1944 Ethel won her one and only Oscar for the film None But the Lonely. The setting is in Liverpool and her son is Cary Grant. Ethel has a portrait of herself as a young lady hanging on the wall. Carrying the dialect of a British lad came easy for Grant, yet it was not so easy for Ethel. Because of trials and tribulations in collaboration of her dialect is what earn Ethel her Oscar. It is truly a story of how a family sticks together and does not leave their love ones at a time of need. This film was almost fifty years after Ethel had acted with her uncle John Drew and Maud Adams at the Waldorf-Astoria.
It is related that when Ethel Barrymore stood hestitating on her first stage appearance some one in the gallery yelled out: "Speak up, Ethel. Don't be afraid. The Drews is all good actors."
One of Ethel's last films, was a year before I was born Young At Heart. I find it a great film for I have it interesting from a family sort of way. The story revolves around a music composer and a piano player. I always had a crush on Doris Day. She has to be one of the best performers, singers and as an actress. What a great cast. It was strange to see her with Frank Sinatra who had the best voice as a male singer. The color was perfect, shots in Connecticut looked like Malibu. One has to wonder how Sinatra sang so good and smoked so much. Doris Day also is portraited as a smoker. 1954 was almost 60 years since Ethel began acting on stage at The Waldorf-Astoria Hotel, where she had a room. I think what caught my attention in this film was that Doris won the Oscar for The Man Who Knew Too Much in 1956 when uncle Harold was unable to get nominated. For he wrote the lyrics to Around the World in 80 Days two weeks before Oscar night for MIchael Todd. Also that Harold wrote the lyrics to Sinatra's first Oscar nomination and this film came a year after Sinatra won an Oscar for From Here to Eternity. Like my uncle Harold Adamson, Ethel had five Oscar nominations and won her one and only acting side-by-side with Cary Grant. Harold received his last Oscar with Grant for the film An Affair to Remember. Young At Heart is truly a film to Remember. Ethel Barrymore would pass away five years later in 1959.
Painting on 1909 Photograph of Ethel Barrymore - Again Looking Like Drew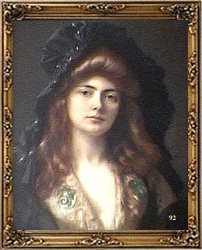 CLICK HERE FOR Ethel Barrymore Photo Gallery-1902-1906.
CLICK HERE FOR SECOND Ethel Barrymore Photo Gallery-1908-1913.
CLICK HERE FOR THIRD Ethel Barrymore Photo Gallery-1910-1928.
CLICK HERE FOR FOURTH Ethel Barrymore Photo Gallery-1925-1930. Portait of daughter Ethel B. Colt.
CLICK HERE FOR FIFTH Ethel Barrymore Photo Gallery.
CLICK HERE FOR SIXTH Ethel Barrymore Photo Gallery.
FILMS OF ETHEL BARRYMORE
1957 Johnny Trouble as: Mrs. Chandler
1954 Young at Heart as: Aunt Jessie
1953 The Story of Three Loves aka Equilibrium Mrs. Pennicott [Mademoiselle]
1953 Main Street to Broadway
1952 Deadline U.S.A. as Mrs. Garrison
1952 Just for You as Allida de Bronkhart
1951 Kind Lady as Mary Harries

1951 The Secret of Convict Lake as Granny
1951 It's a Big Country as: Mrs. Brian Patrick Riordan
1949 The Great Sinner as Grandmother
1949 The Red Danube as Mother Superior
1949 Pinky as Miss Em
1949 That Midnight Kiss as Abigail Budell
1948 Portrait of Jennie aka Tidal Wave as: Miss Spinney
1948 Moonrise as: Grandma
1947 Moss Rose as: Lady Sterling
1947 The Farmer's Daughter as: Mrs. Morley
1947 The Paradine Case as Lady Sophie Horfield
1947 Night Song as Aunt Willey
1946 The Spiral Staircase as Mrs. Warren
1944 None But the Lonely Heart as: Ma Mott
1943 Show Business at War aka March of Time, The, Volume IX, Issue 10 as: Herself
1933 All at Sea
1932 Rasputin and the Empress aka Rasputin: The Mad Monk as: The Czarina
1918 Whirlpool
1918 Our Mrs. McChesney as Emma McChesney
1917 Life's Whirlpool
1917 Call of Her People
1917 An American Widow
1917 White Raven
1916 Awakening of Helena Richie aka The Awakening of Helen Ritchie
1914 The Nightingale
AWARDS:
CLICK HERE FOR Maurice Barrymore Store items with this Portrait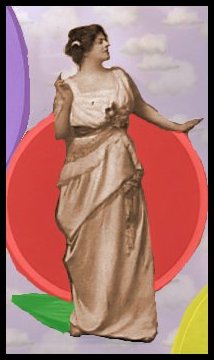 Best Supporting Actress (win) None But the Lonely Heart 1944 Academy
Best Supporting Actress (nom) The Spiral Staircase 1946 Academy
Best Supporting Actress (nom) The Paradine Case 1947 Academy
Best Supporting Actress (nom) Pinky 1949 Academy