John Barrymore, Jr.
[John Drew Barrymore]
Actor
Birth Name: John Blythe Barrymore, Jr
aka John Drew Barrymore
Birth: Jun 4, 1932 - Beverly Hills, CA
Died: November 29, 2004
A few words about John Barrymore, Jr. "I met John, Jr. in Malibu, Calilfornia not in his prime, at 71 years old. John suffered from a nerve illness. At this time I did not know it, nor did his family, that he had cancer. It is hard to understand one's pain. I remember while visiting my "Nanny" Irene Boyd Barrett (from Ireland who died s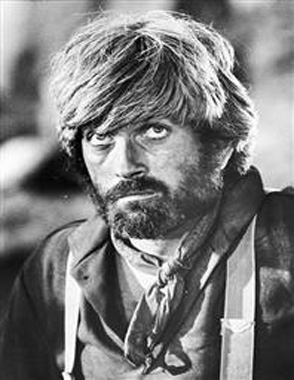 ix months ago at age 90), Irene who was a little tipsy, spoke to John on the telephone. She began singing an Irish song, naw, not Goodnight Irene. I was sure surprised when John Barrymore began singing the song back to Irene. John was sharp and intelligent, in his own way. In 2002-2003, when I would visit with him. He knew what he wanted. For six months while I was taking care of my aunt I would take him, (when I could), food and Starbuck's coffee up to his home in Malibu. As a favor to his son John Barrymore, III. John had someone with him, a care giver he appreciated company and goodies. He did not have a lot of possessions and was not interested in material things, a lot like the film his uncle Lionel was in, truly a classic: You Can't Take It With You."
"At the entrance to his home he always had a picture of his mom, Dolores Costello and his aunt Helena Costello. I was fascinated with their family history which resulted in this website. In looking at photographs of John's mother Dolores Costello, I could see the resemblance in Drew her brother John III, and John Jr. to Costello. John had inherited genes from the Costello side of family, in his physical appearance. * More so than the Barrymore side of the family. In her day, John's mother, Dolores Costello was as beautiful as Mary Pickford. I told this to him on several occasions, 'John, you had such a beautiful mom.' This seemed to make him happy. Having had such famous parents John Barrymore and Dolores Costello it was a hard act to follow."
* Note: John III, looks a little like Lionel, Drew looks like Ethel and very much like her mother "Jade" (also a very beautiful mother). As a genealogist I see how the Costello genes shine through.
Photograph of Maurice Costello, John's grandpa and Dolores Costello's father - click here.
"It must have been tough on him, for everyone has such great expectations from you. This is why he lite up around his daughter, for she had accomplished what he had not been able to do. Everything is timing and John and his family have it! John Jr. was fortunate to have a daughter who took care of him as much as he loved his mother.' I would tell him how lucky he was to be living in such a nice house. That my father was not as lucky, I visited my father twice a week, for five years when he was in a convalescent hospital in Santa Monica. There were no services for my father whose brother Harold Adamson had written a song for John's dad in the film Long Lost Father in 1934. John was just two years old in 1934. John spent his last days in a beautiful and natural surrounding in Malibu. Drew said on his passing he was 'one cool cat.' Drew found her long lost father. When John Barrymore's career ended in the film industry in 1973 so did his son's John III, thirty-one years ago. He was just as proud of his son's success career in the computer industry and the three Barrymore grandchildren which John III, produced. Who knows where their futures is headed. Making a film is a much like raising a family, a lot of hard work goes into it!
Photograph below is John at his prime. He was a pretty tough looking dude in this film Shadow on the Window. Before I go into a John's career, here is a short story o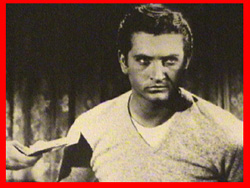 n his father's background I would like to share with you:
When John Barrymore Sr. scored his first hit on Broadway, he took an apartment in New York's Greenwich Village and spent his newly found wealth buying furnishings for it. He even built a garden on the roof. To accomplish this, tons of earth had to be hauled up. Soon after the garden had been completed, it belatedly came to the attention of the owner of the building. "What have you done?" he wailed to the actor. "this roof cannot sustain such a weight. It will collapse!" "Are you sure?" Said Barrymore. "Of course I'm sure. Now what are you going to do about it?" "I'm going to move, of course, retorted Barrymore. "You don't expect me to live in an unsafe building, do you?" Now let us look at John Jr.'s career:
"John Blythe Barrymore Jr., the son of actor John Barrymore and actress Dolores Costello, debuted in films as a teenager. As a young man John could not convince his mother Dolores that he should also be an actor. Dolores eventually gave in to John, Jr.'s desires. "I guess he was born to act." But it was a tough act to follow in his father's footsteps. John began his career in two westerns: The Sundowners, 1950, and then High Lonesome. In High Lonesome, I was truly concerned for John's safety. It was very much like watching a Twilight Zone series. Or watching his daughter Drew in Firestarter.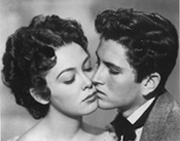 John went on to worked with John Losey in The Big Night. In 1956 John found himself in Fritz Lang's thriller While The City Sleeps, and the cult melodrama of the evils of marijuana, Jack Arnold's High School Confidential. Two years later John and Steve McQueen (McQueen debuted) in Never Love a Stranger. McQueen was a District Attorney and John played a crook who had run ins with his childhood friend. I really enjoyed this film and thought John Barrymore, Jr. gave a great performance. John was very fit and complimented Steve McQueen.
Because his second marriage on October 28,, 1960, at the Church of Saint Sebastiano, to actress Gabriella Palazzoli, John found himself acting in several Italian-made historical films in the early 1960s, including The Nights Of Rasputin (aka The Night They Killed Rasputin) and The Trojan Horse (as Ulysses to Steve Reeves' Aeneas). After JFK's demise in 1964 John returned to the United States and appeared on Gunsmoke and The Wil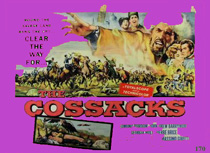 d, Wild West. John worked well with Robert Conrad when he played American Knife an Indian chief. In 1974 John worked with David Carradine (son of John Carradine, a close friend of John Barrymore) in Kung Fu. Mrs. Carol Hoffman wrote: "In this series Hollywood had the opportunity to see the sons of two great fathers and two great friends carry on the family tradition through two generations, as John was joined by his son John III, then a teenager, in several sequences."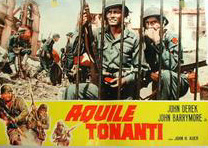 FILMS OF JOHN BARRYMORE JR.
1973 The Clones Actor
1969 This Savage Land [TV] Actor: Stacey
1967 Winchester '73 [TV] Actor
1965 Invasion 1700 Actor: Bohun
1965 Night Star, Goddess of Electra Actor
1964 The Christine Keeler Affair Actor: Dr. Stephen Ward
1963 Roma Contro Roma aka The War of the Zombies (U.S. title) Actor: Aderbal
1963 Death on the Fourposter Actor
1963 I'll See You in Hell Actor
1962 La Guerra di Troia aka The Trojan Horse (U.S. title) Actor: Ulysses

1962 Pontius Pilate aka Ponzio Pilato Actor /Jesus
1962 Il Conquistatore di Corinto aka Conqueror of Corinth aka The Centurion Actor: Diaeus
1961 Col Ferro e Col Fuoco aka Daggers of Blood Actor: General Bohun
1961 The Pharaoh's Woman Actor: Prince Sabaku
1960 I Cosacchi aka The Cossacks Actor: Giamal
1960 The Cossacks Actor: Giamal
1960 Les Nuits de Raspoutine aka The Night They Killed Rasputin Actor: Prince Yousoupoff
1960 Game of Crime Actor
1959 Night of the Quarter Moon aka Flesh and Flame Actor: Roderic "Chuck" Nelson
1958 High School Confidential aka Young Hellions Actor: J.I. Coleridge

1958 Never Love a Stranger Actor: Frank Kane
1957 End of a Gun [TV] Actor
1957 End of the Rope [TV] Actor
1957 The Shadow on the Window Actor: Jess Reber
1957 Ain't No Time for Glory - Invisible Fortress Actor
1956 While the City Sleeps Actor: Robert Manners
1952 Thunderbirds Actor: Tom McCreery
1951 Quebec Actor: Mark Douglas
1951 1837 Actor

1951 The Big Night Actor: George La Main
1950 High Lonesome Actor: Cooncat
1950 The Sundowners Actor: The Younger Brother