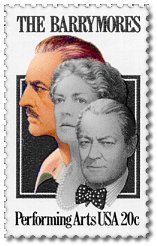 John Barrymore
Actor
Birth Name John Blyth Barrymore
Birth Feb 15, 1882 - Philadelphia, PA
Death May 19, 1942 - Hollywood, CA

Stage designer Robert Edmond Jones, said to John: "Jack, you can do everything you want any way you want to do it. There is nobody in that position in the theater today." Lionel Barrymore said of his brother: "Setting down words to explain Jack Barrymore...is like seeking the myster of Hamlet himself in the monosyllables of basic English." (). John Kobler's Damned in Paradise, intro.
Like his brother Lionel and his sister Ethel, American actor John Barrymore had early intentions to break away from the family theatrical tradition and become an artist. But acting was his first choice thanks to his family, natural ability, talent and good looks, Barrymore was a matinee idol within a few seasons after his 1903 stage debut. His best-known Broadway role for many years was a wireless operator in "The Dictator." The Photograph below is John as Saint Francis Assisi in 1917.
CLICK HERE FOR John Barrymore Store as Saint Assisi.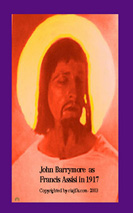 His one chance for greatness occurred in 1922, when he played Hamlet; even British audiences hailed Barrymore's performance as one of the best, if not the best, interpretation of the melancholy Dane. Eventually, Barrymore abandoned the theatre altogether for the movies, where he was often cast more for his looks than his talent. Perhaps in revenge against Hollywood "flesh peddlers," Barrymore loved to play roles that required physical distortion, grotesque makeup, or all-out "mad" scenes; to him, his Dr. Jeckyll and Mr. Hyde (1920). Yet in Don Juan (1926), John used his good looks to charm his audience while making history with Vitaphone Pictures.
Two excellent films with John Barrymore and Norma Shearer acted in were Romeo & Julliet and Marie Antoinette. C. Aubrey Smith was also in Romero & Julliet in 1936. Several years later Smith and Barrymore's ex-wife Dolores Costello made a great film Little Lord Fauntleroy.
Counsellor at Law, was another great film in 1933. John Barrymore came across as a lawyer in distress and just when you think all is lost his grime future turns bright. I enjoyed this film. Also in 1933 John acted in Long Lost Father. At the time of this filming Drew's dad was only two years of age. This film seems almost like the life of John Barrymore, II, and his daughter were reincarnated from this film.
The History and Story of Don Juan the World's Romantic Lover as told on the Screen
In 1926 Warner's Brothers Pictures and Vitaphone Corporation with an arrangement with Western Electric and Bell Telephone Laboratories presented John Barrymore in the film as Don Juan. This was the birth of the sound within the motion picture industry. It happened on August 6, 1926 at the Warners' Theater on Broadway at 52nd Street, New York. Ever since the invention of movies, there were attempts to create talking pictures by synchronizing film with cylinder or disc recordings. Thomas A. Edison himself coupled cylinders and film first in the mid-1890s and later in 1913, but times using the trade name Kinetophone. Not only was synchronization a frequent problem because sound and picture were originating from different machines, but the sound itself often lacked clarity and enough volume to fill a large theater. It was not until Dr. Lee De Forest invented the three-filament, gas-filled Audion tube in 1906. Western Electric purchased the rights from De Forest and greatly improved the sound of telephone calls from the Pacific Coast to the Atlantic. With the improvement of the tube Alexander Bell placed the first transcontinental phone call to Thomas A. Watson in San Francisco on January 29, 1915. As a result Westeren Electric Company, Bell Telephone Laboratories and Warner Brother's eventually formed a partnership which enlisted Vitaphone Pictures to synchronized films.
Vitaphone began the revolution by replacing the Silent movies from the public forum. When John Barrymore played the lead of Don Juan his leading lady was Mary Astor (no relation to the Astor family) as Adriana Della Varnese. An interesting note was that Helene Costello (John Barrymore's sister-in-law) played "Rena" Adriana's maid. Myrna Loy and Hedda Hopper were also a part of this cast. On April 26, 1926, Western Electric licensed Warner Brothers to produce synchronized pictures under its patents. After four hundred names had been discarded, "Vita" was borrowed from Vitagraph, and "phone" from the electrical system between disc and speaker, and the process was christened "Vitaphone." An interesting family connection is footnoted see (*) Vitaphone not only introduced music into educational institutions, as amusement parks, commercial and religious fields. The Vitaphone invention made it possible for every performance in a motion picture theater to have a full orchestral accompaniment to the picture regardless of the sixe of the house.
I recommend that if one is given the opportunity to watch Topaz, definitely one of John's great movies. Professor Topaz is a very enjoyable character and this film contains a great lessons for children money is not everything. That good always wins over evil!
20th Century is another Ben Hecht film and Barrymore works with Carole Lombard, and Howard Hawks. Barrymore has an enormous amount of energy for me in this film.
__________________________
* Author's Footnote: My granduncle Ernest Martin who married Florence Adamson was on the engineering staff at Vitaphone. I remember meeting Florence Adamson' granddaughter and she told me stories how Ernest was the engineer for the first movie with sound in it and worked on several Rudolph Valentino films. In the mid-1920s Ernest Martin's brother-in-laws James and Percy Adamson began inventing "Lastex" the first stretchable clothing. A trade mark sold to the U.S. Rubbert Company in 1932, Ethel Barrymore's father-in-law had once been President of the U.S. Rubber Company. In 1934, eight years later Martin's nephew Harold Adamson would write the song "It Isn't So Much That I Wouldn't "for the film Long Lost Father the leading actor was John Barrymore. The year before in 1933 Lionel and John Barrymore worked together in the film Dinner at Eight. Barrymore used the phrase "Time on My Hands," in Dinner At Eight three years earlier in 1930 Harold Adamson wrote his first song fresh out of Harvard: "Time on My Hands" with Vincent Youmans. In 1936 Harold wrote a song for the film The Voice of Bugle Ann with Lionel Barrymore as the leading man. While John was an expert in Shakespere and reading Macbeth, Adamson is a descendent of King Duncan, who was murdered by MacBeth. Charming! Yes, Macbeth was a real person.
---------------------------------
JOHN BARRYMORE'S TAKE ON DON JUAN:
"The Year 1926 marked the thirtieth anniversary of the birth of Cinema, the infant Progidy fathered by all the arts. In one scant generation the much maligned, "movies" have become one of the arts, taking rank, by right of birth, inheritance and accomplishment, with the seven fine arts of tradition. Chinese walls of language, prejudice and time-worn tradition have been surmounted and leveled by the international appeal of motion pictures. They tell their own story and make their story intelligible to all, eliminating the necessity of a trained mind, a concordance or a glossary.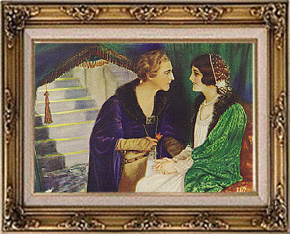 "Nothing yet discovered by the arts and sciences has the potency for international amity and goodwill among all peoples of all degrees as has the motion picture, with its unique capacity for educating and instructing while it is entertaining. I am proud to be one of those who are striving to maintain the high and growing standards of artistic motion pictures. I predict that it will be the most effective of all the arts in the spread of culture and enjoyment among all the peoples of the world." John Barrymore
For Barrymore to have played "Don Juan" is the consummation of a lifelong desire. Always he has wanted to interpret the character of the great lover as he understands him. That the role was one upon which his heart had been set is evidenced by the vivid manner in which his genius gave substance to what for lovers of romance has long been but a shadow. The photoplay stands as a lasting monument to the film industry and constitutes a permanent tribute to stars, director, author and cast--in short, to all who in any way contributed their art toward making of "Don Juan."
The film that followed Don Juan was Barrymore's role in Sea Beast also carried that romantic touch, for while kissing the love of his life Dolores Costello she fainted at that moment. So powerful was Barrymore kissed that they then became man and wife.
To show how small a world it is. Another great film by John Barrymore was Midnight with Don Ameche. Claudette Colbert and John Barrymore are a team when Colbert pretends to be a Barroness. This film was released in 1939. A little less than 50 years later while a U.S. postal window clerk in Los Angeles I watited on Don Ameche who was still a refined genleman. I waited on him in 1987 and spoke to him at my window for some time. It is remarkable how one person can touch so many people throughout their life.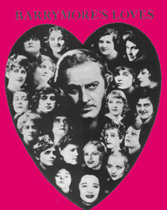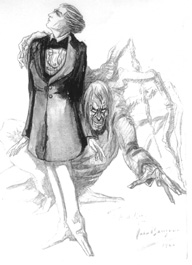 Portrait by John Barrymore
John Barrymore's UnRehearsed Love Affairs
Jack's first love affair was with Evelyn Nesbit, who was also dating architect Stanford White. Eveln's parents married her off to a millionaire Harry K. Thaw, who ended up killing Stanford White in Madison Square Gardens a building he had designed. The two trials of Thaw were considered The Trial of the Century, then came O.J. Simpson. 2). Ella Wheeler Wilcox; 3). Maude Adams; 4). Ida Conquest; 5). Alla Nazimova; 6). Gladys Cooper; 7). Bonnie Maginn; 9). Vivian Blackburn; 10). Lorra Faust; 11). Elsie Janis; 12). Irene Fenwich; 13). Sally Fisher; 14). Florence Reed; 15). Telluiah Bankhead; 16). Mary Astor; 17). Camille Horn; 18). Carole Lombard and then there were his marriages.
Maurice Barrymore, was never bothered by the reports of the reckless escapades of his three famous offspring. On one occasion, a friend suggested that he keep an eye on John, who had his eye on a shapely showgirl. "Don't let him become involved," urged the friend. "You know how quickly these young fellows imagine they are in love." " Don't worry about that," laughed the elder Barrymore. "A Barrymore falls in love only once in his life. With himself!" St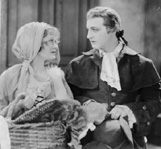 ory from Harold Metcalf.
Another great silent movie is When A Man Loves, John als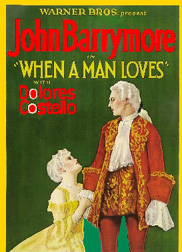 o acts with Dolores Costello in this film. As a silent film this one really grips the viewer. It is almost as good as Don Juan, Barrymore falls in love with Dolores and runs into many complications along the way. Taking part in the times of Louis XV of France. Photo to left is Dolores and John Barrymore in fim When A Man Loves and this is where they fell in love.
CLICK HERE FOR EVELYN NESBIT Story.
In 1910 Jack married a debutante by the name of Katherine Harris which lasted seven years. After this John married Blanche Thomas who was known by her pen name Michael Strange and they had one daughter Diana. This marriage lasted until 1928 when Blanche witnessed Barrymore's leading lady Dolores Costello in the film Sea Beast. When Michael Strange saw the love scenes she fumed "That's not acting. He's in love with the girl." After divorcing Dolores Costello, he married in 1936 Elaine Barrie, who was right out of Hunter College.
CLICK HERE FOR Dolores and John's home in Beverly Hills on Summit Drive.
There was ONLY one true love in John Barrymore's life and that was Dolores Costello. When Barrymore first met Dolores he wrote: "I just laid eyes upon the most preposterously lovely creature in all the world. She walked into the studio like a charming child, slender and shy and goldenhaired. Never saw such radiance, My God! I knew that she was the one I had been waiting for, all my life, just for her." John Barrymore.
The Mad Gensis, 1931 could have been call The Mad Russian. It is an example of a character much like his artwork. Donald Cook and Marian Marsh gave great performances. Because of a disability, Barrymore's Russian character could never become a dancer. So he adopts a young man who was abused by his father and the plot goes on from there.
A Bill of Divorcement, 1932, we have John taking on the roll of a rehabilitated nut case. His greatest performance when he fools his own daughter, played in her very first film Katherine Hepburn that he was going to kill his wife (Billie Burke). John convinces everyone that he was going to kill Burke who would become the good witch in the film Wizard of Ox seven years later. John and Hepburn would never act in another film together. While the following years Burke and John worked in the film Dinner at Eight.
If you get a chance see the 1939 film A Great Man Votes. John is a plesant alcoholic and a loving father. Great film. He has a great personality in this film. **** See it on Turner now and then. Put in a request they will show it.
John's last words were to his brother Lionel : "You heard me, Mike."
CLICK HERE FOR John Barrymore Photo Gallery-1902-1906.
CLICK HERE FOR John Barrymore Photo Gallery-1926-1930.
CLICK HERE FOR John Barrymore Photo Gallery-1925-1930.
CLICK HERE FOR John Barrymore Photo Gallery.
CLICK HERE FOR John Barrymore's speech entitled "A Juvenile Lead" and Photo Gallery.
FILMS OF JOHN BARRYMORE
1941 World Premiere as: Duncan DeGrasse
1941 Playmates as: Himself
1940 The Invisible Woman as: Prof. Gibbs
1940 The Great Profile as: Evans Garrick
1939 Midnight as: George Flammarion
1939 Land of Liberty [doc] Actor
1938 Romance in the Dark as: Zolton Jason
1938 Marie Antoinette as: King Louis XV
1938 Hold That Co-Ed as: Governor
1938 Bulldog Drummond's Peril as: Col. Nielson
1938 Spawn of the North as: Windy Turlon
1938 The Great Man Votes as: Vance ****** Great Film Love this one
1937 Bulldog Drummond's Revenge as: Col. Nielson
1937 Bulldog Drummond Comes Back as: Col. Nelson
1937 Bulldog Drummond Double Feature as
1937 Night Club Scandal as: Dr. Ernest S. Tindal
1937 Maytime as: Nicolai Nazaroff
1937 True Confession as: Charley
1936 Romeo and Juliet as: Mercutio
1934 Twentieth Century as: Oscar Jaffe
1934 Long Lost Father as: Carl Bellaire
1933 Counsellor-At-Law as: George Simon
1933 Reunion in Vienna as: Rudolf
1933 Night Flight as: Riviere
1933 Dinner at Eight as: Larry Renault
1933 Topaze as: Auguste Topaze
1932 Arsene Lupin as: Duke of Charmerace
1932 Rasputin and the Empress aka Rasputin: The Mad Monk as: Prince Paul Chegodieff
1932 Grand Hotel as: Baron Felix von Geigern
1932 A Bill of Divorcement aka Never to Love as: Hillary Fairfield
1931 The Mad Genius as: Ivan Tzarakov
1931 State's Attorney aka Cardigan's Last Case [1932] as: Tom Cardigan
1931 Svengali as: Svengali
1930 The Man from Blankley's as: Lord Strathpeffer
1930 Moby Dick as: Capt. Ahab

192? Horrible Double Feature [doc] Actor
1929 Eternal Love aka Der Koenig der Bernina as: Marcus Paltram
1929 Show of Shows as: Guest
1929 General Crack as: Gen. Crack
1928 Tempest as: Sgt. Ivan Markov
1927 When a Man Loves as: Chevalier des Grieux

1927 The Beloved Rogue as: Francois Villon
1926 The Sea Beast as: Ahab Ceeley
1926 Don Juan as Don Juan de Marana
1924 Beau Brummell as: George Bryan Brummet
1922 Sherlock Holmes Art Director / as: Sherlock Holmes
1921 Lotus Eater aka The Lotus Eaters as: Jacques Leroi
1920 Dr. Jekyll and Mr. Hyde as /Mr. Hyde

1918 On the Quiet as: Robert Ridgeway
1917 Raffles, the Amateur Cracksman as: A.J. Raffles
1916 The Lost Bridegroom Actor
1916 The Red Widow as: Cicero Hannibal Butts
1916 Nearly a King as: Jack Merriwell, Prince of Bulwana
1915 The Dictator as: Brooke Travers
1915 Are You a Mason? aka The Joiner as: Frank Perry
1915 The Incorrigible Dukane as: James A. Dukane, Jr.
1914 Man from Mexico as Fitzhugh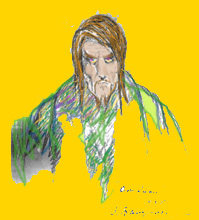 Portrait by John Barrymore