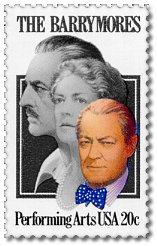 Lionel Barrymore
Actor
Birth Name: Lionel Blyth
Birth: Apr 28, 1878 - Philadelphia, PA
Death: Nov 15, 1954 - Van Nuys, CA
Lionel once wrote : "My family first appeared on the stage in 1752. In the approximately two hundred [250 years to date] years past, the Barrymore-Drew clan has been accused of more nepotism than any other sibling performers. My grandmother, Mrs. John Drew Sr., my father Maurice Barrymore, my mother, Georgiana Drew Barrymore, my uncles, John Drew and Sidney Drew, my cousins and my aunts, all played together.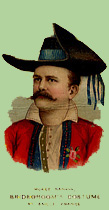 I made my first successful Broadway appearance under the startled eye of Uncle John and my first professional bow anywhere under the disappointed frowns of my grandmother and my Uncle Googan---Sidney Drew. I have acted with my brother Jack, with my father-in-law McKee Rankin, and with my wife. With both wives. But I never weaseled my way in front of an audience with the actress I consider the most gifted and distinguished on any stage, anywhere...none of us, Drews or Barrymores, has ever attempted to influence other members of the tribe..." (). We Barrymores, Lionel Barrymore, p.p. 2-4.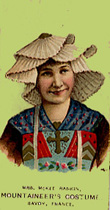 Photo to left is Lionel's father-in-law Rankin McKee. .Mr. Rankin had another daughter whose name was "Pixey" Rankin Gibbs." CLICK HERE FOR GREAT PORTRAIT OF ADA RANKIN IN SCOTTISH GARB.
Uncle Googan was Sidney Drew. Lionel wrote "I am proud to claim kin to him, although in her autobiography, published in 1899, Louisa Lane Drew states that she had adopted Sidney. By reviewing Lionel's early plays you can witness that they were produced by Sidney Drew. Ibid.p.35. Photo to right is Lionel's mother-in-law, Mrs. McKee.
CLICK HERE FOR Sidney Drew PHOTO GALLERY.
When Lionel was just a boy his father "Maurice" introduced him to as Mr. Clemens. aka. Mark Twain. Lionel was quite familiar with Tom Sawyer and Huckleberry Finn, he wrote: "I looked Mark Twain in the eye then and began to blurt words to him...my father moved to fetch me a kick under the table and tried to stop me from reciting Mark Twain's own story back to him...at the end of my recital there were tears in his eyes." Ibid. p.p. 25-26.
The photo to the left is of Mrs. and Mr. Sidney Drew.
Lionel directed a 1929 film which included Nance O'Neil who was the lover of Lizzie A. Borden. Lizzie Borden was tried as being the axe murderess of her parents. Lizzie was acquitted and later met Nance ONeil in 1905. Nance O'Neil began acting with the Rankin's.
.His Glorious Night is a 1929 Pre-Code American romance film directed by Lionel Barrymore and starring John Gilbert in his first released talkie. The film is based on the 1928 play Olympia by Ferenc Molnár.
Plot
Although being engaged against her will with a wealthy man, Princess Orsolini (Catherine Dale Owen) is in love with Captain Kovacs (John Gilbert), a cavalry officer she is secretly meeting. Her mother Eugenie (Nance O'Neil), who has found out about the affair forces her to dump Kovacs and take part in the arranged marriage. Though not believing her own words, Orsolini reluctantly tells Kovacs she cannot ever fall in love with a man with his social position, being the son of a peasant.[citation needed]. Hedda Hopper was the mother of actor Dennis Hopper, Perry Masons' side kick.
John Gilbert as Captain Kovacs
Catherine Dale Owen as Princess Orsolini
Nance O'Neil as Eugenie
Gustav von Seyffertitz as Krehl
Hedda Hopper as Mrs. Collingswood Stratton
Doris Hill as Priscilla Stratton
Tyrell Davis as Prince Luigi Caprilli
Gerald Barry as Lord York
Madeline Seymour as Lady York
Richard Carle as Count Albert
Eva Dennison as Countess Lina
Youcca Troubetzkov as Von Bergman
Peter Gawthorne as General Ettingen

When World War II broke out, Lionel Barrymore wrote to Winston Churchill the following letter:
"Dear Mr. Churchill:
You do not know me but you do know my sister. I am a brother of Ethel Barrymore and I have a request to make. It is this: when the time comes, as it surely will, and you get ready to spring the trap on that S.O.B. Hitler, may I ask for two front-row reserved seats? Respectfully, L.B."
Churchill responded from 10, Downing Street, Whitehall on Oct. 13, 1940:
"Dear Barrymore:
It was kind of you to write me such a charming letter and I am touched by what you say. We feel confident of success over here but it cheers us to know that we can count on the sympathy and good will of people like yourself on the other side of the Atlantic. Yours sincerely, Winston Churchill."
Before World War II, in 1936 Lionel had an accident where he tripped and fell. "I felt the stab of a hard and wrenching pain in my left hip. I fumbled and scrambled but I could not get up. When help reached me and I had been carried to the hospital it was discovered that I had broken my hip...Aside from the pain, which I bore and bellows and no fortitude, I felt betrayed and outraged...I was reminded of a remark of Jack's: "Die? I should say not, old fellow. No Barrymore would allow such a conventional thing to happen to him." Gradually, Lionel learned to walk a little. ibid. 284.
At the request of Louis B. Mayer's instructions M.G.M. wrote scripts in which Lionel could play. One may recall Lionel's great fil ever with Jimmy Stewart and Donna Reed's in the classic It's A Wonderful Life." Ibid. 285
While Lionel might have been stereotyped into wheel chair roles, he was a man who suggested the opposite. Lionel was known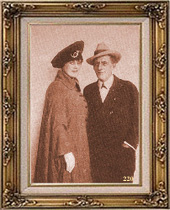 to give advice freely, to friend and neighbor of my aunt, Audrey Totter told me that "Lionel said 'Audrey, don't get stereotyped into acting only in noir films.'"
A perfect example of Lionel Barrymore's character lies in an incamera investigation of his disability. Sure he must have been upset at first. Yet, he did not complain, instead he became a great artists. Why just on August 27,2002 I found one of his prints selling on the internet for $2,500.
CLICK HERE FOR LIONEL BARRYMORE PHOTO GALLERY-1902-1922.
CLICK HERE FOR SECOND LIONEL BARRYMORE PHOTO GALLERY-1902-1922.
FILMS OF LIONEL BARRYMORE
1956 Our Mister Sun [doc]
1953 Main Street to Broadway as Himself
1951 Bannerline as: Hugo Trimble
1951 Lone Star as: Andrew Jackson
1950 Right Cross as: Sean O'Malley
1949 Malaya aka Alien Orders as: John Manchester
1949 Down to the Sea in Ships as: Capt. Bering Joy
1948 Key Largo as: James Temple
1947 Dark Delusion aka Cynthia's Secret as Dr. Leonard Gillespie
1946 Three Wise Fools as: Dr. Richard Gaunght
1946 The Secret Heart as: Dr. Rossiger
1946 Duel in the Sun as: Senator McCanles
1946 It's a Wonderful Life as: Mr. Potter
1945 The Valley of Decision as: Pat Rafferty
1944 Dragon Seed as: Narrator
1944 Since You Went Away as: The Clergyman
1944 Three Men in White as: Dr. Leonard Gillespie
1944 A Guy Named Joe as: The General
1944 Between Two Women as: Dr. Leonard Gillespie
1943 Dr. Gillespie's Criminal Case aka Crazy to Kill as: Dr. Leonard Gillespie
1943 Thousands Cheer as: Announcer
1942 Dr. Gillespie's New Assistant as Dr. Gillespie
1942 Calling Dr. Gillespie as: Dr. Leonard Gillespie
1942 Tennessee Johnson as: Thad Stevens
1941 The People vs. Dr. Kildare aka My Life is Yours as: Dr. Leonard Gillespie
1941 The Bad Man aka Two-Gun Cupid as: Uncle Henry Jones
1941 Dr. Kildare's Victory aka The Doctor and the Debutante as: Dr. Leonard Gillespie
1941 Lady Be Good as: Judge Murdock
1941 The Penalty as: "Grandpop" Logan
1941 Dr. Kildare's Wedding Day Composer (Music Score) / as: Dr. Leonard Gillespie
1940 Dr. Kildare's Strange Case as: Dr. Leonard Gillespie
1940 Dr. Kildare's Crisis as: Dr. Leonard Gillespie
1940 Dr. Kildare Goes Home as: Dr. Leonard Gillespie
1939 Land of Liberty [doc]
1939 Calling Dr. Kildare as: Dr. Leonard Gillespie
1939 The Secret of Dr. Kildare as: Dr. Leonard Gillespie
1939 Let Freedom Ring as: Thomas Logan
1939 The Movies March On [doc]
1939 On Borrowed Time as: Julian Northrup, "Gramps"
1938 Test Pilot as: Howard B. Drake
1938 A Yank at Oxford as: Dan Sheridan
1938 The Young Dr. Kildare as: Dr. Leonard Gillespie
1938 You Can't Take It with You as Grandpa Martin Vanderhof
1937 Captains Courageous as: Captain Disko
1937 Saratoga as: Grandpa Clayton
1937 A Family Affair as: Judge James Hardy
1937 Navy Blue and Gold as: Capt. "Skinny" Dawes
1936 The Devil Doll as: PaulLavond
1936 The Gorgeous Hussy as: Andrew Jackson
1936 The Voice of Bugle Ann as: Spring Davis
1936 Camille as: Monsieur Duval
1936 The Road to Glory as: Papa LaRoche
1935 Mark of the Vampire as: Prof. Zelen
1935 The Little Colonel as: Colonel Lloyd
1935 Public Hero No. 1 as: Dr. Josiah Glass
1935 The Return of Peter Grimm as: Peter Grimm
1935 Ah, Wilderness! as: Nat Miller
1935 David Copperfield as: Dan Peggotty
1934 This Side of Heaven as: Martin Turner
1934 Treasure Island as: Billy Bones
1934 The Girl from Missouri aka One Hundred Percent Pure as: T.R. Paige
1934 Carolina as: Bob Connelly
1933 Night Flight as: Robineau
1933 Sweepings as: Daniel Pardway
1933 Christopher Bean aka Her Sweetheart, Christopher Bean as: Dr. Haggett
1933 One Man's Journey as: Dr. Eli Watt
1933 Dinner at Eight as: Oliver Jordan
1933 Should Ladies Behave? as: Augustus Merrick
1933 Berkeley Square as: Innkeeper
1933 The Stranger's Return as: Grandpa Storr
1933 Looking Forward aka The New Deal Actor: Michael Benton
1933 Reunion in Vienna
1932 Grand Hotel as Otto Klingelein
1932 Washington Masquerade as: Jeff Keane
1932 Arsene Lupin as: Det. Guerchard
1932 Broken Lullaby aka The Man I Killed as: Dr. Holderlin
1932 Mata Hari as: Gen. Serge Shubin
1932 Rasputin and the Empress aka Rasputin: The Mad Monk as: Rasputin
1931 Guilty Hands as: Richard Grant
1931 Ten Cents a Dance Director
1931 The Yellow Ticket aka The Yellow Passport as: Baron Igor Andreeff
1931 A Free Soul as: Stephen Ashe
1930 Love Comes Along
1930 The Rogue Song Producer / Director
1930 Free and Easy aka Easy Go as: Director, bedroom scene
1929 Stark Mad
1929 The Mysterious Island as: Count Dakkar
1929 The Hollywood Revue of 1929 as: Specialty
1929 His Glorious Night Director / Composer (Music Score)
1929 The Unholy Night aka The Green Ghost Director
1929 Madame X Director
1928 Sadie Thompson as: Alfred Atkinson
1928 Alias Jimmy Valentine aka Jimmy Valentine as: Doyle
1928 Drums of Love as: Duke Cathos De Alvia
1928 West of Zanzibar as: Crane
1928 The Lion and the Mouse as: John "Ready Money" Ryder
1928 The River Woman as: Bill Lefty
1928 Road House as: Henry Grayson
1927 Women Love Diamonds aka Women Want Diamonds
1927 Body and Soul as Dr. Leyden
1927 Show as The Greek
1927 Love
More Lionel History click on link here.