Thanks to GotNet.com for Non Profit website!
MANY FAMILY CONNECTIONS ------------ read on ------}
The FIRST Barrymore Family died out in 1823 in England and when Maurice came to America he changed his name from Blyth to Barrymore. Click Here for British Barrymore Family members Wikipedia Genealogy
Click Here for American Barrymore Genealogy.

-
Bruce Adamson meets Ethel Barrymore from Santa Monica on July 23, 2012. Ethel lives on 3rd and Washington about a block from Whitey Bulger once lived. Bulger was in same circles as BcA prior to his arrest! We know that Whitey worked for FBI as an assassin, yet could he have worked for CIA? One of the people he killed was friends with Frank Sinatra? Click Here to meet Ethel Barrymore a real live dog.
100 Years Since the Great Earthquake of San Francicco -Eleven Years later John Barrymore acted as Saint Assisi.
SAN FRANCISCO--Sit Down With the Barrymore, Drew and Costello Family's and Visit.
Saint Francis Assisi is the man and saint whom the City of S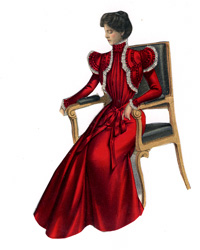 an Francisco was named after. In 1905 when John's father was dying, Maurice Barrymore said on his death bed, para-phrased "Don't go to San Francisco haven't you heard it has fallen into the sea." This was a year before the worst earthquake in U.S. History, as far as damage is concerned on April 18, 1906 at 5:12 am. Eighty percent of the homes were destroyed.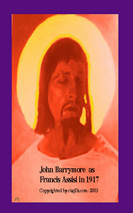 The worst earthquake that we know of was in 1811-12 as far as strength goes was "The New Madrid" earthquake in Missouri. All of the major shocks came on a Full Moon. One shaker lasted an hour and the famous artist of birds John Audobon was knocked to his feet. Not the worse as far as death and destruction.
The photograph above is John Barrymore as Saint Francis Assisi in 1917. This photograph was taken ten years before motion pictures would develope sound. John Barrymore was then a Saint! A decade later John Barrymore would meet his wife Dolores Costello who starred in the film San Francisco. Yet, before he did he starred in the film Don Juan and the Chief Camera Engineer at Vitaphone was Bruce's grand-uncle Ernest Martin who married Flo Adamson.
Click here to read the biography of Saint Francis Assisi.
----Click here to read more about John Drew Barrymore, Jr. who passed away Nov. 29, 2004--When I would visit John, Jr. he would enjoy feeding the birds on his balcony overlooking the hills on the other side of Latigo Canyon,, in Malibu. I was then visiting 90 year-old Irene Boyd Barrett who lived in 1960s with actor Jim Hutton (father of Tim) and the home once owned by Dolores and John Barrymore.
This website is intended as a digital museum of sorts, where you can read about, see pictures of, and soon even hear these legends of the stage. Click on the buttons on the left for more detailed information about the Barrymore, Costello, and Drew families.
Mrs. John Barrymore - Doloros Costello was a beauty and her father Maurice Costello was responsible for introducing Moe Howard into acting and thus later on The Three Stooges were created.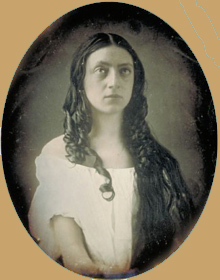 Photograph of Mrs. John Drew circa 1840s. Photography was invented in 1839. Twenty years later she would act together with John Wilkes Booth as Lady Macbeth.
Abraham Lincoln's favorite play was Macbeth. In March of 1865, John Wilkes Booth gave his final performance in the play as Duke Pescara in The Apostate, at Ford's Theatre. Caroline Shin has written that Louisa Drew also appeared by John Booth's side. Yet have been unable to locate cast for play or source. Interesting for I found that they were in Macbeth 1863 and assumed it was the only time they appeared together. Oh Well.
Mrs. John Drew who is the founding member of their family within the United States. She came to the United States in March of 1827 as a young Miss Louisa Lane playing five different parts in a single act. Louisa was then very funny and the American public then loved her. If it was not for Louisa Lane's marriage to John Drew there would be no Barrymore's today as we have come to know and respect them. Photograph on the right is Mrs. John Drew in 1863 the year that she was on stage with John Wilkes Booth for a fair well performance to his honor. No, No, no conspiracy. Booth would shoot Lincoln two years later. A conspiracy of Love maybe. John W. Booth and Robert Lincoln both dated the same women, Lucy P. Hale. Daughter of a well known politician. As did Oliver W. Holmes and John Hay. They all Loved Lucy. They were way ahead of their time for uncle Hal wrote the song I Love Lucy which was a birthday present Ricky gave to Lucy on her birthday.
Do you want to know what the sad thing is? Macbeth killed my great grandfather King Duncan in 1039. I found this as a genealogist, not on my father's side, yet on my mother's side of the family.
-NEW Click here to read more about Louisa Drew and family.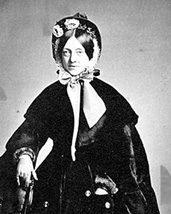 There are an estimated 200 photographs linked into the Barrymore, Costello and Drew families. One may wonder, why would Adamson spend more time on their family website, than his own?
While taking care of my aunt "Gretchen" who died in 2002 at age of 89, I was a caregiver and checked out 12 books on their family history which resulted in this website. Aunt Gretchen was also an actress under George M. Cohen and George S. Kaufman and was taught by Lee Strasberg. Ironic as it may seem it was Kaufman's play "You Can't Take It With You" 1938, which was one of the best films. Full of humor, Lionel Barrymore was my favorite in this film. this film had the same black Raven as was in the film It's A Wonderful Life.
I became a fan of Drew when she was in the film Never Been Kissed. Also full of humor.
Which resulted in becoming friends with her brother and meeting her father John Barrymore II. Had I known he had cancer, I would have been more understanding. He wanted me to come and light his pipe and bring him KFC and STARBUCKs coffee to his home. Most of the time he had a nurse or two when I would visit him in Malibu. I also fell for Dolores Costello which John Barrymore, II had a beautiful portrait of her entering his home. The entire Costello family was in the Swan convertible.
I had a lot of Time on My Hands while taking care of aunt Gretchen and made family connections between my mother's family and the Barrymore-Drew families. At the time of the opening of The Waldorf-Astoria hotel in 1897, Ethel Barrymore performed for my great grandparents. Today the Empire State Building rests on the very property as the original Waldorf-Astoria hotel.
My great grandmothere Lillian Easton Kissam and Ethel Barrymore were friends with the very first Peter Pan, actress Maude Adams.
Click here to read more about Kaufman's career;
Because there was so much photographic material to work with the Barrymores, Costello and Drew families. I got hooked, hopefully you will too. The Barrymore's were not the only other acting family I became associated with. I went to school and hung out with Virginia and George Morgan the grandchildren of Frank Morgan known as The Wizard of Oz, In 1907 It was John Drew the son of Louisa Drew who first acted with Billie Burke in "My Wife." Burke was best known for her role as The Good Witch in The Wizard of Oz. It was the Easton Family Castle in the USA that inspired Frank L. Baum to write the series on The Wizard of Oz. My favorite Morgan film was the return of Lassie, with a very young Elizabeth Taylor.
The late Robert Easton was a cousin of Adamsons', and Easton was a dialect coach to John Barrymore III, and Drew Barrymore when she was 12 years old.The two films that Easton was the dialect coach to Drew were Everafter and The Long Island Lolita, story of Amy Fisher.
John Barrymore III, has told me that Easton did teach both Drew and himself at the Globe Theatre in West Los Angeles run by Thad Taylor. Terry Taylor (nephew) has done an excellent job of relocating his uncles Shakespeare collection to Moss Landing, CA. Terry Taylor sells via mail all sort of shakespeare items which you can see on his website at read more about Thad and Terry Taylor's Shakespeare Museum in Moss Landing, CA. For Everafter.
Interesting tidbit relating to Shakespeare is that my mother's 10th great grandfather George Calvert was Secretary of State under King James and was a favorite of King Charles. Calvert's protege was Robert Cecil. Calvert was "First Lord Baltimore" and was the founder of Baltimore, Maryland which included most of the the land that is today known as Washington D.C.
Shakespeare died in 1616 during the reign of James.
Adamson came across jewelry belonging to Dolores Costello. Adamson gave the jewelry to Robert Easton who was suppose to give it to Drew Barrymore, if she was to visit him. Click here to read Letter from Robert Easton.
I remember a very spirital experience where I spent the night at the Morgan's Malibu home on a Full Moon. We stayed up all night. I do recall driving home to Santa Monica and witnessed the most colorful sight where the sunrise and the ocean turned purple. Frank Morgan and the Barrymore's both worked for MGM and were all great actors. Interesting note about George and Virginia's great uncle "Ralph Morgan" he was the "Czar" in the film Rasputin and the Empress. This is the only film in which Ethel, John and Lionel Barrymore acted together in. Lionel directed a 1929 film which included Nance O'Neil who was the lover of Lizzie A. Borden. Lizzie Borden was tried as being the axe murderess of her parents. Lizzie was acquitted and later met Nance ONeil in 1905
.His Glorious Night is a 1929 Pre-Code American romance film directed by Lionel Barrymore and starring John Gilbert in his first released talkie. The film is based on the 1928 play Olympia by Ferenc Molnár.
Plot
Although being engaged against her will with a wealthy man, Princess Orsolini (Catherine Dale Owen) is in love with Captain Kovacs (John Gilbert), a cavalry officer she is secretly meeting. Her mother Eugenie (Nance O'Neil), who has found out about the affair forces her to dump Kovacs and take part in the arranged marriage. Though not believing her own words, Orsolini reluctantly tells Kovacs she cannot ever fall in love with a man with his social position, being the son of a peasant.[citation needed]. Hedda Hopper was the mother of actor Dennis Hopper, Perry Masons' side kick.
John Gilbert as Captain Kovacs
Catherine Dale Owen as Princess Orsolini
Nance O'Neil as Eugenie
Gustav von Seyffertitz as Krehl
Hedda Hopper as Mrs. Collingswood Stratton
Doris Hill as Priscilla Stratton
Tyrell Davis as Prince Luigi Caprilli
Gerald Barry as Lord York
Madeline Seymour as Lady York
Richard Carle as Count Albert
Eva Dennison as Countess Lina
Youcca Troubetzkov as Von Bergman
Peter Gawthorne as General Ettingen

Ethel Barrymore who was close to Maude Adams the original Peter Pan was smart when it came to marriage for she married into the Colt family. Her papers as well as some of her family's are at the Univeristy of Rhode Island.
John Barrymore plays "Paul" whom was in reality Grand Duke Dimtri. Today Dimtri's son, Paul Romanov Ilyinsky was the former Mayor of Palm Beach, Florida. Ilyinsky was friends with George de Mohrenschildt and the Cassinis. The Cassini's grandfather was the first ambassador to the USA for Czarist Russia and he worked with John Hay. Rasputin and the Empress is definitly worth watching a great film.
In 1917 John Barrymore and Frank Morgan were great together in a silent film RAFFLES THE AMATEUR CRACKSMAN, based on the story by E. W. Hornung.Barrymore and Frank Morgan make a great team and Barrymore's energy for a silent film is terrific. He says so much with his movements and without ever saying a word. Click here to read more Raffles, the Amateur Cracksman film;.
This website took a couple of years to put together and Adamson went on a couple of trips to dig up many of the photographs. It began in 2002 and it does not seem like 15 years ago. Time does fly. It has been overwhelming when dealing with so many interesting family members in the film and stage industry. If I have, overlooked a fact or important point, please share it with me. I am sure you will enjoy the photographic and portrait galleries. See Resourses and Links button for an excellent photographic book on John Barrymore and Dolores Costello. Since 2001-02 this website has been non-profit. Uncle Harold Adamson wrote his first song Time on My Hands, which I obviously had when I put this together. Harold wrote songs for John Barrymore in the film Long Lost Father and a song for a Lionel Barrymore film The Voice of Bugle Ann in the 1930s. Click on links if you want to see more on Robert Easton appears and John Barrymore III, both were in Civil War documentary at http://ciajfk.com/rufuseaston.html
Our Pal Hal -- An Affair to Remember -- HAROLD ADAMSON
View Harold "Hal" Adamson's video 40 minutes produced by nephew Bruce Adamson; narrated by (KION news producer) and professor Wes Sims (retired); edited by Harold's stepson Colonel Andrew Amerson, Donna Roberts (editor/title) and the late Cabrillo Professor Steve Hanley. Click here.
J